Expansion and Accelerating Growth
RPost has successfully expanded with a partner-centric approach, having now established distributors in all continents (other than Antarctica) that have brought RPost's RMail and RSign services to their customers. This distributor network has collectively signed on thousands of corporate and government customers, mostly over the last year. While mainly small and medium sized businesses, we are pleased to report that some of our distributors have developed such innate expertise on RMail and RSign services that they have successfully signed on and deployed these via multi-country deployments within international companies.
Our largest global distributor, Ingram Micro, the world's largest technology distributor, is now transacting with RPost products within the United States, Canada, United Kingdom, Netherlands, and Australia through its networks of resellers; positioning RMail and RSign as an

enhancement alongside Microsoft Office 365. We have achieved sufficient success with Ingram Micro such that it has opted to deploy RPost's RMail email security and RSign e-signature services in 15 additional international markets as part of an elite group of email encryption and e-signature providers that are offered through Ingram Micro to its global distribution network.
Working with SoftwareOne, the world's largest technology software lifecycle management company,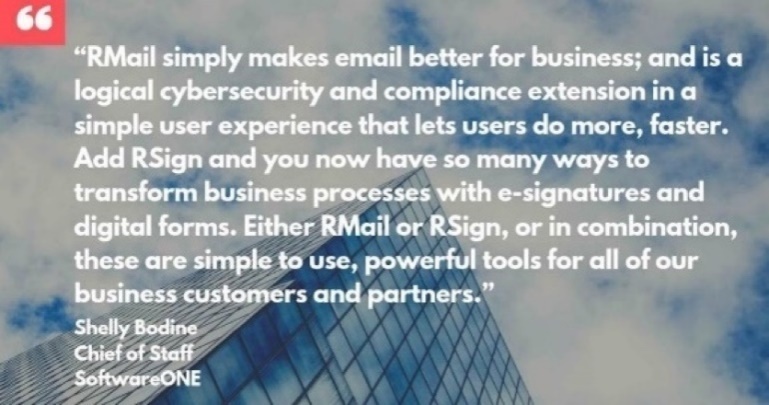 we are striving to bring RPost's specialized enterprise applications -- RSign e-signature workflows, RMail Gateway automated encryption, RMail for Office 365 Outlook, and Registered Email™ certified e-delivery proof – to the procurement departments of most large companies with affordable enterprise-grade service plans.
Working with Frama, one of the world's leading postal financial technology companies,

we are bringing RMail and RSign to local markets across Europe through their teams servicing customers in English, French, German, Italian, Spanish, Dutch, Danish, and Swedish.
Working with Certicamara, one of the largest Certificate Authorities in Latin America,

has expanded use of RMail and Registered Email services using other digital authentication companies as distributors.
Working with our most trusted distributor, MSP, VAR, and solution partners worldwide, we strive to continuously bring them RPost innovative enhancements to the anchor RMail security and RSign e-signature products they have built into their marketplaces and customer-facing portfolios.
Working with our industry platform partners, we put our services a click away from insurance, legal, financial, health care, and property management professionals. More software platforms are choosing to integrate elements of RPost technologies into their products, making it straightforward for their business users to secure and streamline their workflows.
With consistent growth year over year, and with profits from operations (EBITDA+), RPost projects acceleration in 2020 and more than 100% growth in run rate revenue while maintaining positive EBITDA (assuming capital from revenue and other sources is available to fuel growth). This growth is anchored by RPost's Next-Gen products; its HealthTech, FinTech, and LegalTech initiatives; its global distributors, and continued product innovation.