Our Main Industries
RPost's products are often part of HealthTech, FinTech, and LegalTech initiatives to improve operations, add more cybersecurity, improve privacy compliance, and manage digital transactions.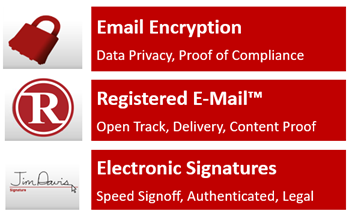 Built on RPost's award-winning and time-tested
R

Mail
® and
R

Sign
® product platforms, our customers rely on use of RPost technologies for health care information privacy compliance and life sciences clinical research safety notices, e-prescriptions, and labs (e.g.
HealthTech
), to record insurance and other financial transactions (e.g.
FinTech
), and to send critical notices that have legal consequence if later challenged (e.g.
LegalTech
), for example. In these areas, our customers and partners view RPost as a worldwide leader, digitizing workflows and bettering cybersecurity and compliance.